There are a lot of great features you can only find in the Member Area and I want to use this post to show you what they are, so you can decide if you would benefit from a signup. It is FREE and only takes a minute! If you don't have an account yet you can register here.
Domain Name Status on different TLDs

This is a very cool thing I really like to use. For every domain name you can see the current DNS status under different TLDs (.de/.com/.net/.org/.biz and .info). So if you are looking for .com domains and you only want domains that are already registered under .net and .org, you can just add a filter for that and get the results in seconds. You can find it in every domain list and for every domain.
Saving Searches and reusing them
Checking for domains is a every day thing. If you check for the same information every time, you can really benefit from Saved Searches, because you only have to define your filters once and reuse them whenever you want. This is how it works:
You set your filters and order the list until you are fine with the results
You click on the (save search icon) and your search is saved
Name your search, so you know what it is used for (click on the automatic generated name)
Now you can reuse them by visiting the Saved Searches page or you can find them in the fold out menu by hovering over the Saved Searches link with your mouse
If you want to change a Saved Search, you run it, change filters or orders and click again on the Icon or the save link

This works perfect for every domain list like Deleted .com Domains and it also works on the Keyword Search Results. That means you can define a search for Deleted .com Domains with Alexa Ranking and you can save a Keyword Search for Credit.
More Filters
In the Member Area you can find more filters for drilling down the amount of domains you have to go through. TLD available / TLD registered: these filters help you find only domains that are free in the selected TLD or already registered. These filters use the previously mentioned DNS status values for different TLDs.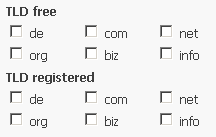 The usage of these is so nice, for example:
You can find Deleted .com Domains that are still registered as .net, .org and .info.
You can find Domains where the .net is currently sold, but the .com is still available to register
It is great to see that the .net is still available for the name you want if the .com is already registered
For me as a German it is nice to find .com Domains that are already registered under .de
Language Keyword Filters
: You can select only domains that match words in the given language. This is nice to find generic Keyword Domains or combinations of them. You can also filter the amount of words in the domain name you want to see. If you only want domains matching exactly one word, you can set the Filter "max Word count" to 1. In the results every word in the domain name will be capitalized for better readability.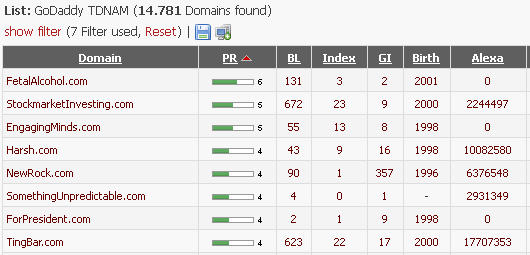 At the moment the following languages are supported:
English
Spanish
Dutch
French
Italian
Polish
German
Turkish
Swedish
Norwegian
Finnish
Danish
More languages would be possible, but i was unable to find more wordlists. If you want another language supported, it would be nice if you could send me a wordlist or dictionary for that language.
Other Features you can only find in the Memberarea
Use one set of filters/orders on all domain lists: If you are checking a lot of domain lists with the same filters/orders, you have to manually set these for every list. In the Memberarea you can define them once and go throw the lists without setting the again.

Removed limitation of maximum with of the website: On the open website you can see a fixed with for the tables. That limits the amount of information I can add here. In the Memberarea the limitation was removed, so I can now add more information for every domain. You can also really use high resolutions on your end.

Price and Bids Filter for GoDaddy Domain Lists: You can define the start/end price for the GoDaddy Domain Lists and the min/max amount of bids the auction must have. That helps to only find GoDaddy Expired Domains with a minimum of x bids.

Domain Name Pattern Search: You can define a Pattern the Domains you are looking for must match. That helps to find pronounceable Domain Names.

Usage:
C = Consonant (bcdfg...)
V = Vowel (aeiou)
L = Letter (any character)
N = Number (0-9)
- = Hyphen
* - Anything

Examples:
CVCV -> cewo.com
CVVC -> peew.com
CVVCNN -> peew24.com
NNN -> 123.com

Quantcast Rank: Every domain will be checked for a Quantcast Rank and if the domain is under the Top 1 Million Websites the Rank will be shown. There is also a filter for that.